It seems slightly bonkers to be talking about the warmth of the sunshine today! Here's the view from my window right now:
But I've been thinking about sunshine warmth lately in relation to the Lent materials I am currently writing for the Lent Bible journalling kit and the Retreat on Sat 16th March. At this time of year, however cold it may be (and it's certainly cold here in Edinburgh at the moment), we can't help but notice the lengthening of the days. I was interested to discover that the word Lent comes from 'Lengthening' – the idea that as the days lengthen leading up to Easter, so too do we 'lengthen' spiritually as we set aside time for God as part of our Lenten discipline. As the warmth of the sun increases during Spring, so do does the warmth of the Son in our lives. Expect some sunshine symbolism in the Lenten journalling materials!
God's love for us is like sunshine warmth in our lives. What difference does it make when we feel really loved? It changes everything! The world looks more colourful, we notice more sunshine, the hard graft gets easier, the days seem full of joy! Sometimes, when life gets tough, it's hard to keep hold of that. We feel a chill around us. The ground feels slippery and uncertain. Does God really love me? It's important to ask the question.
The Bible is full of the answer. This Lent I invite you to look at the some of the passages that speak to that question, to sit with the images and reassurances. It may seem like Lent is still a long way off but the days are lengthening already and it will be here before we know it! Take time to plan your Lenten journey, whether that means booking a workshop or retreat, ordering the journalling kit, or simply deciding to set aside time each day with your Bible.
We may not understand all the whys and wherefores in our world, but the one thing we can be sure about is God's love. Sometimes this is easy, other times it takes great faith and immense trust. Knowing God's love in our daily lives gives us strength for every eventuality.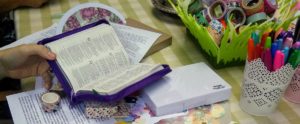 Book now for the Lent Retreat Day on Saturday 16th March 10am-4pm in Edinburgh.  £65 per person. This includes lunch, refreshments, Lent journalling kit for you to keep and lots of other materials to use on the day.
Or simply pre-order your kit for more info and join in at home. Kits will be posted around 14th March and include an A5 journal, study notes with journalling prompts, lots of other supplies and eco-friendly packaging where possible. Kits cost £20 each plus £3.50 p&p, limited edition.
I've tried to make these kits less expensive without compromising on content. (£5 less than Advent). Let me know what you think.
Feel the warmth of the sunshine! Lent Materials Update