This is a strange time to be living through: cancelled holidays, uncertainty around working patterns, disjointed education for our children and young people, questions about the future of our churches and how we worship, challenges around how we relate to family members who are shielding or at risk etc. etc! How do we find God's still small voice in amongst all this? How do we create the space to relax with him?
Many of us find great blessing by prioritising a little time for creativity as we pray and think about God's words of challenge and comfort. The new 'Time to Relax' mini journalling kit encourages us to do just that: use the bright and cheerful craft materials to decorate your pages as you meditiate on some key Bible verses. We are reminded that God built days of rest into the order of creation: annual holidays are a great thing, but far more important is keeping rest as a priority in our daily and weekly patterns throughout the year. We see this example from God himself, right back in Genesis 2:3 and again in the 10 commandments at number 4! At various points in the Scriptures we are reminded to be still, to listen, to rest, to be quiet and to stop! The kit will help us explore these themes and think about how we relate to them ourselves. By using the craft materials and making space for calm creativity, we will also be taking the time to 'do what is says'!
Get the kit HERE.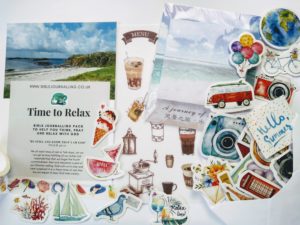 I was challenged about all this again recently myself and I documented the experience in my journal: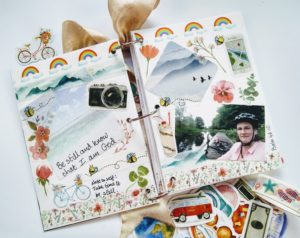 In the video below I'm explaining how I used one of the Bible references suggested in the kit to help me find some space with God. Jin me as I create the page above and think about finding stillness.  The video begins with decorating the journal I have made using the new range of 'Time to…' postcards.
If you want to see how to make the journal yourself, there's another video here using the 'Time to Blossom' kit:
You can get the 'Time to Blossom' kit HERE.
I've been incredibly encouraged by all the messages and comments from members of the Bible journalling community, both privately and in the FACEBOOK GROUP. Between us we are managing to find times of prayerful creative stillness, even through the most challenging of circumstances. Come and join us if you haven't already.
There are more 'Time to…' things in the pipeline including 'Time to Praise' kit (sneak peek below) and the 'make your own 'Time to…' journal set that many of you have requested.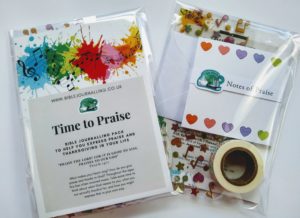 Whatever your circumstances this summer, may you hear the 'still small voice' when you need it!
'Time to Relax' this Summer