I've been posting on Facebook about the beautiful experience of leading a retreat last week on the Isle of Cumbrae, journalling with the Fruit of the Spirit. Several of you expressed sadness that you couldn't join in – it's certainly a long way from the south of England! I've spent today making up a few extra kits and am making them available for the reduced rate of £16 each plus P&P (£3.50 in the UK). So  Email me if you would like one and I'll put it in the post. They are a limited edition so it's first come, first served.
My next blog will be some fuller reflections on the retreat experience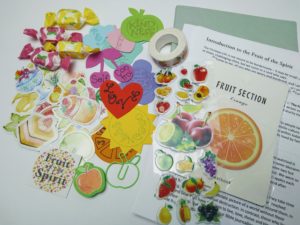 and a flip-through video of my 'fruit of the spirit' journal. Coming soon!
You can also get the kit from my Etsy shop here or email me a list of what you'd like and pay by direct bank transfer.
Fruit of the Spirit kits available for you to use at home