Last week was one of those pivotal experiences where you feel the Holy Spirit nudging you and telling you that 'this is the way, walk in it'. Since I started leading Bible Journalling UK a year ago, I've done a number of half day workshops and full day retreats at various churches around central Scotland and from my own home. I had dreamt and prayed for chances to work with a group for longer, and see what impact the journalling could have, but it seemed a long way off.
Then the Revd. Elaine Garman, one of my former students, now a friend and colleague in the Scottish Episcopal Church, asked me to lead the annual retreat for the Diocese of Argyll and the Isles on the Island of Cumbrae: 3 nights at the beautiful retreat house attached to the Cathedral of the Isles, silence for 2 of the days (including mealtimes), a group of 10 participants, 6 talks & demos from me, and hours on end for creative Bible journalling. After weeks of sourcing materials, a week of talk-writing and a week of packing stuff, I arrived. Elaine and I drove off the ferry with a full car to set up the journalling room in the beautiful old library at the aptly named 'College of the Holy Spirit'. The tangible presence of Godly peace in the place, combined with the warmth and wood panelling, immediately calmed any fears I might have had!
The group were an incredible bunch of people from all over the west of Scotland and the Isles. It included some experienced crafters, those who were quite new to the idea of prayer and Bible study through creativity, and a gifted professional artist. The way in which they embraced the journalling, stickers, washi tape and paint etc. was inspirational. The pages and creations that emerged were simply beautiful. When we shared some of our work on the last night, you could see the journeys with God mirrored in the journey with the journalling.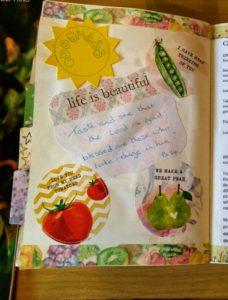 I found the silence challenging and on reflection, failed to hold the boundary as tightly as I maybe should have in the craft room. For me creative journalling is partly about fellowship and mutual encouragement brought on by the joy of sharing colours and words, but it's amazing how strong a sense of group identity can be forged without any words. The silent meals were a rich experience – it's easy to take our nourishment for-granted when we are chatting away. I was struck again by how rich we are in this country with our copious supplies of food.  The staff at the Cathedral were such a blessing, learning all our names almost as soon as we arrived so they could ensure we all got the right platefuls.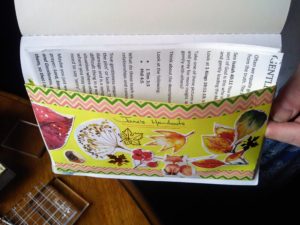 All 9 'Fruit of the Spirit' (Galatians 5:22) is a lot to cover in a relatively short retreat, so I encouraged everyone to sit with the things that jumped out at them and leave the rest. I provided handouts with Bible references, notes and journalling prompts on all 9 'fruit'. This made it hard for the 'completer finishers' and many of us dutifully raced through all 9! I'm hoping that people went away with enough notes and materials to continue journalling with 'the fruit' at home if they want to.
I came away with new friends, new energy for this journey with Creative Bible Journalling, and a strengthened belief in the power of colour and images in creating space to explore God's love and his word. Thanks to all who came, for being willing to get stuck in, and for forming a strong worshipping community through the silence. You know who you are!
There are a few limited edition kits available for those who couldn't come. Get them here on Etsy or Email Jane direct. Reduced rate of £16 each plus p&p (£3.50).
Here's a little flip-through video of my own 'fruity' journal.
Reflections on the 'Fruit of the Spirit' Creative Bible Journalling Retreat